Don't Get Bit by 0% Balance Transfers!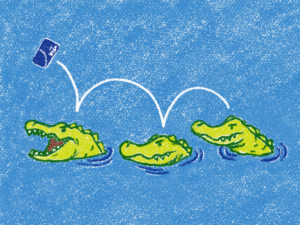 If you have been tempted by 0% credit card transfers advertised by big banks, watch out! After they sink their teeth into you, rates can get very high!
Instead of jumping from card to card, try the ACU 8.88% APR* Infinite Balance Transfer!
For a limited time, you can transfer your high-interest cards to an ACU Visa Credit Card and your low rate on the balance transferred will last until it is paid in full. Any additional charges will be added at a rate based on your credit rating. Plus, you won't pay any balance transfer fees!
Choose from the low-rate ACU Platinum Visa or receive 1% cash back** on purchases with the ACU Platinum Rewards Visa.
All ACU credit cards include:
No annual fee
Auto Rental Collision Damage Waiver
24-hour access to your account through Online Banking and Mobile Banking
Card controls with the ACU Card App (for Platinum and Platinum Rewards cards)
Convenient and secure online shopping with Visa Checkout
25-day grace period
Immediate emergency card replacement (no cost for replacements due to fraud, $10 to replace lost cards)
Apply for an ACU Visa
Already an ACU Visa Credit Cardholder?
Transfer Balances
Apply for an Increase
Promotion ends on 04/30/2021.
*APR=Annual Percentage Rate. Your APR for purchases is 7.04% – 18.00% based on your credit worthiness and will vary with the market based on the Prime Rate. Applies only to ACU Platinum and Platinum Rewards cards. This transaction is subject to credit approval. See full Visa disclosure or Business Visa disclosure for more information.
Verified by Visa enrollment is no longer required on ACU cards, but rest assured that your ACU Visa card transactions are still secure. Your security is important, therefore we have deployed advanced risk detection technology to monitor transactions which removes the need for passwords, allowing you to shop without interruption.
ACU reserves the right to revoke this offer. If there are other account owners, they will be added as authorized users to this Visa and will receive a card in their name also.
** Cardholders will earn a one percent (1%) cash reward for every one dollar ($1.00) in net purchases (purchases minus returns/credits) made on your Credit Card Account, rounded to the nearest one cent ($0.01).  You do not earn Cash Rewards on cash advances of any kind, balance transfers, any interest or fees, including but not limited to returned payment fees, and late fees. Your Cash Reward balance will be calculated monthly and a rolling total will appear on your Visa statement. Your account must be open and in good standing (not cancelled or terminated by either party, not delinquent or otherwise not available to use for charges) at the time of redemption.