19th Annual ACU Turkey Shoot Golf Tournament Brings over $50,000 in Donations for JBLM Charities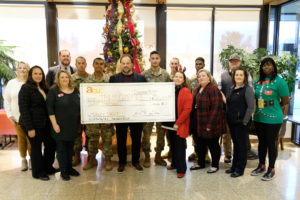 JBLM, WA – November 7, 2019
On November 1, 2019 The ACU Foundation raised over $50,000 for numerous charities on Joint Base Lewis-McChord (JBLM) through the annual charity golf tournament, Turkey Shoot.  In it's 19th year it was also the initial fundraiser for ACU's Non-Profit, The ACU Foundation. Many local businesses and over 112 golfers, including guest soldiers, participated to help raise the funds. With the beautiful weather the spirit of giving, golf and appreciation for our military was high.
The tournament originally started to get Santa's Castle off the ground. Santa's Castle is a local charity that assists soldiers in need by providing Christmas presents for them to give to their families. Later, the tournament was expanded to support other charities on JBLM.
Ken Leonard has been there from the beginning and shared the history and meaning of the tournament as well as his commitment to give back to our soldiers. The ACU Foundation and Ken are honored to contribute to the morale and welfare of our military.
ACU wishes to thank the following sponsors for their support of this tournament;
SWBS, Pacific Office Automation, Access Softek, Costco, Grey Ghost Precision, Farrelli's, Express Storage, Papa Bueno Tequila, Titus Will Chevrolet parkland, Experian, Siderius Lonergan & Martin law, Cascade Print Media, NXG, We "R"Tacoma, American Reporting Company, Arrow Cleaning and Lamar. We would like to give a special thank you to the Walmart Puyallup Store for supplying turkeys and to Dimitri's Gourmet Mixes for continuing to make our event a great success.
For more information contact:
Amber Young, Community Engagement Specialist
253-912-3257