ACU is Helping Local, Small Businesses
Tessa Effland thought that it would be easy getting a Paycheck Protection Program (PPP) loan from her bank. Her thriving exercise studio had just been shut down due to the Covid-19 Pandemic and she needed some help. She had been a loyal customer at her bank for 12 years and since the PPP loans were specifically meant for businesses like hers, she expected the process to be relatively painless. She filled out the forms online over and over but they would not let her submit. When she called, the bankers that she had worked with for years told her there was nothing they could do for her.
How it Started
Tessa had started her personal training business out of her home garage part-time and as it grew, she moved to a larger rented space in Tumwater. The business continued to expand with a nutritional, esthetician and massage space upstairs. She just needed to make it through a couple of months through the shut-down. But she was missing some information that was needed to move forward on her loan. She had an accountant at one time, but some things were never set up correctly. Unfortunately, her bank did not have the time, or the will to help her figure it all out.
Meanwhile, the Business Services team at ACU had been calling each of their business customers. They had worked double shifts to make sure that they took care of every one of them. Many had needed PPP loans to help weather the shutdown. When they were done with their own members, they started reaching out to people in the community that needed help.
Phil Prothero, COO at ACU was a family friend of Tessa's and kept calling to check in on her. Finally, she said "yes" she could use some help. Phil set her up with Maxey from the Lacey Branch and Sean in Business Services. They immediately started working on her situation.
Putting it All Together
Over the following three days they worked on collecting the information required for the loan. At times, Tessa thought that it would not work and was impossible, but she didn't quit. What had started as a part time hobby, had become an extended family of people who worked for her and members of her gym. With the steady encouragement of Sean and help from Maxey setting up the account and delivering documents, they pieced it all together and submitted the application on Friday. On Monday she had her loan.
After all the time and work, it wasn't a terribly large amount of money that she had requested, but it was enough. With the PPP funds she was able to pay her rent and her six employees for the two months they missed. She kept busy while she waited to reopen, using her studio to support her foundation "4 The Love" with her friend Nicole (founded together) to gather food for the community and deliver it to local residents who were hungry and in need. Maxey ended up volunteering as well!
Happy Ending
The day after she was allowed to open back up, she met Sean for the first time. He wanted to come by and see what he had helped save. A group of happy and tired exercisers were just leaving, satisfied and enthusiastic about being able to work-out together and get back some normality. Tessa is now busy running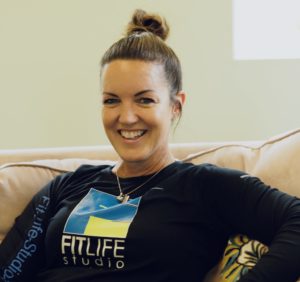 back-to-back classes and adding clients who want to get back in shape. She said, "I now know exactly what is happening financially at the studio", "I never really had a good idea of how things were going with my business, but I do now, and it feels terrific"!
Tessa Effland is the Fitness Coach and Owner of FitLife Studio
Sean Agustin is a Business Banker at ACU