The 10th Annual GIANT ACU Used Car Sale is Back!
Event Details
July 14-16, 2023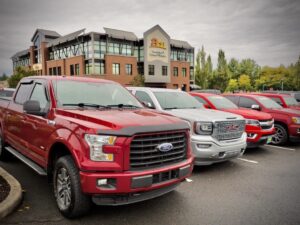 Join ACU and our event partner, Titus-Will, as we present a large selection of used cars and trucks. The weekend kicks off on Friday for a special appointment-only Preview Night where our members have the opportunity to shop the night before the sale starts. Then, it's Saturday the 15th, and Sunday the 16th, all day.
Over 150 Used Cars, Trucks, & SUV's, Imports, Domestics, Luxury, Lifted & Custom Trucks!
Rates as low as 5.99%! 
LOW, pre-negotiated pricing!
BBQ Available on-site!
On-Site Raffle for a Traeger Grill!
Click here to get pre-approved for an auto loan to make the Car Sale process even easier!
Get Preapproved
Schedule an Appointment for Friday
Appointments for Friday night are now full. Because of such high demand, we have added scheduled appointments to Saturday and Sunday as well! If you'd like to set an appointment ahead of time to meet with a Titus-Will representative, please click the link below and select the time that works best for you.
Official Hours:
Friday, 07/14:  5PM – 9PM PST (Appointment Only – FULL)
Saturday, 07/15:  9AM – 8PM PST
Sunday, 07/16:  9AM – 6PM PST
Schedule a VIP Appointment with a Titus-Will Representative
Schedule an Appointment
Location:
ACU DuPont Parking Lot
1495 Wilmington Drive
DuPont, WA 98327
Resources
Click here to view Titus-Will's website and check out their current inventory:
View Titus-Will Website
Click here to view our Auto Loan Calculators to determine a price, or payment, that suits you:
Auto Loan Calculators
ANNUAL PERCENTAGE RATE AND OTHER IMPORTANT PROGRAM INFORMATION
*Annual percentage rate and other important program information: APR=Annual Percentage Rate. Promotional 5.99% APR applies only to loans with a term of 36 months. Rate is fixed. All loans are subject to ACU lending policies. Your rate is based on predetermined credit criteria from a Credit Reporting Agency and may change based on the year, mileage, and condition of the vehicle. Income, debt ratio, employment, and credit worthiness may be considered before loan is funded. Current APR listed is the "as low as" rate as of 07/14/2023 and is subject to change without notice. Loans financed with ACU will require a membership share savings with a minimum deposit of $25. All registered owners are required to be signers on the loan and are subject to approval of credit. Title transfer fees vary from state to state and ACU will cover the expense up to $25. Title transfer fees are estimated to be $21 in Washington State. We will advise you on any title fees before we fund the loan. Other rates and terms are available. Minimum loan amount is $7,500. This offer is valid on new loans only. All offers expire 07/16/23 at 6:00 p.m. America's Credit Union is insured by NCUA. ACU Mailing Address: PO BOX 5060, DuPont, WA 98327.
**No purchase or submission to sales presentation necessary. Purchase does not increase chance of winning. Void where prohibited. See complete rules available at America's Credit Union, a Federal Credit Union [ACU], 1495 Wilmington Drive, DuPont, WA 98327. Entry period for drawing starts 07/14/23 at 5:00 PM PST, and ends 07/16/23 at 4:59 PM PST. The drawing will be held 07/16/23 at 5:00PM PST. The termination date for eligibility is 4:59PM PST on 07/16/23. Open to legal U.S. residents, age 18 or older with a valid driver's license. Participation is open to anyone age 18+, regardless of state of residence, if they are present at the event and meet eligibility requirements. ACU reserves the publicity rights to announce the winner's name. Winning names(s) will be displayed during normal business hours between contest dates at participating locations. Winner(s) may be contacted via phone. Available prizes, approximate retail value and odds of winning: Raffle prizes to be chosen week of event. Giveaway items estimated value of $500. Odds dependent on number of raffle entrants. Maximum of one prize award available per person, during the event period of 7/14/23 – 7/16/23. In the event of print/mechanical errors or duplicate winning numbers distributed in error, the number match contest is void and no prizes will be awarded. All validly claimed prizes will be awarded. Any unclaimed prizes will not be awarded. Winner is solely responsible for all federal, state, and local taxes on prize value and, as applicable, will be issued an IRS form 1099 on the Prize value. Participation of ACU and Titus Will Automotive staff is prohibited. America's Credit Union is insured by NCUA. ACU Mailing address:  PO BOX 5060, DuPont, WA 98327.