Enter the ACU Double Your Rate Raffle!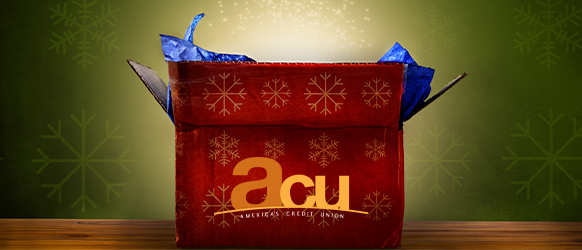 Every member who opens a share certificate for the remainder of December will be entered into an exciting contest! If your account is drawn, ACU will double the APY* (posted rate) on your certificate up to $100,000.00! That means a 3.00%APY rate will be 6.00%APY until the term matures!
Drawings will be held weekly on the 16th, 23rd and the 30th of December. One person will win each week! Winners will be notified by our own ACU President, Phil Prothero who will also make announcements online.
Contact by email: ebranchemail@youracu.org
Contact by phone or text: 253-964-3113
If you are not already a member you can get started here:
Apply for a Savings Account Online
*Contest Rules
The following Official Account and Prize Entry Rules ("Official Rules") apply to all Raffle participants.
Who May Enter:  The Raffle is open to all natural persons who, at the time of entry (a) are Credit Union members, (b) are at least 18 years of age, (c) who maintain a regular share account in good standing with the Credit Union ("Eligible Members"). Officers, directors and employees of any participating credit union are not eligible to participate in the Raffle. Officers, directors and employees of any participating credit unions' vendors as such individuals are likewise ineligible to participate in the Raffle.
How to Enter: To participate in the Raffle, Eligible Members must open a Qualifying Certificate Account with ACU during the Raffle Period with a minimum deposit of $500.  Automatic entries will be recorded by the Credit Union once the account is open. No other action, and no other purchase or other consideration is required for an entry into a prize drawing.
Prize Eligibility: In order to be eligible to win a prize in a drawing, a Member's Qualifying Certificate Account must be open and active through the drawing period.  If the Qualifying Certificate Account is owned by more than one individual, the primary member under whose taxpayer identification number earnings on the account would be reported to the Internal Revenue Service should such reporting be required for the account shall be deemed the Participating Member and only the Participating Member shall be eligible to win a prize. Termination date for eligibility: ACU must receive submissions by 3:00PM PST on December 30, 2022. Offer void outside of the United States of America and it's territories. Winner's name may be announced.
Prizes: The winning accounts will have their interest Rate doubled (x2) until the maturity of the certificate (posted rates only). The maximum deposit to be affected is $100,000.00. Amounts in the same account over the maximum will receive the rate in effect at the time of the drawing. The new rate will commence January 2nd, 2023 and will be the rate for the remainder of the certificate term. Winning Participating Members will be notified via telephone, email, or standard U.S.P.S. mail. Prizes are non-transferrable. Participating Members need not be present at the drawing to win. ACU will provide those winning prizes equal to or more than $600 for the given tax year with an IRS 1099 MISC form. To request a list of winners of prizes greater than $25 contact ACU at PO Box 5060, DuPont, WA 98327.
To Enter Without Purchase or Obligation: Enter your street address, city, state, ZIP code, and daytime and evening telephone numbers (including area code), and email address, at this link to be entered: Click Here. One entry per person.
Odds: Actual odds of winning are based upon the number of eligible entries received. Each eligible certificate shall have a chance of winning America's Credit Union prizes. Except for making deposits as described, taking any other action, or purchasing any goods or services, will not increase the odds of winning.
Taxes: Winning Members are solely responsible for all applicable federal, state and local taxes and any expenses associated with the prize, unless otherwise indicated.
Copyright © 2022 America's Credit Union, a Federal Credit Union. All Rights Reserved. This email was sent to you by America's Credit Union located at 1495 Wilmington Drive, DuPont, WA 98327. Federally insured by NCUA. Equal Housing Lender. You are receiving this servicing email as part of your existing relationship with America's Credit Union.
*APY=Annual Percentage Yield. A penalty of up to 90 days of dividends may be imposed for early withdrawal. Fees and penalties may reduce earnings. Rates may change after account opening.