Five Financial Resolutions for 2023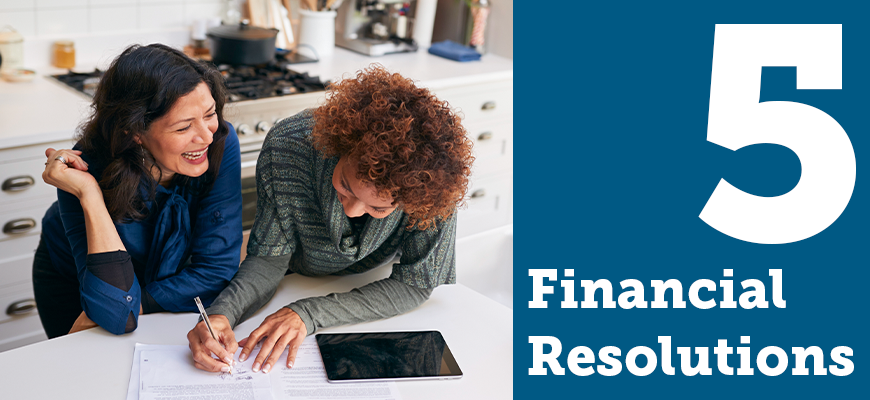 The coming year is a great time to look at our finances and make sure that we are on the right track. Having a financial plan in place is one of the most important steps towards financial success and making changes now can help set us up for success in the coming year. Here are five financial resolutions that you should consider making for 2023.
1. Track Your Spending – One of the best ways to ensure that you are staying within your budget is to track your spending. Keeping track of where your money goes can help you better understand where your money is going, and what areas you may be able to cut back on spending or save more money. There are many apps and tools that can help with this process, so take some time to find one that works best for you! The ACU Mobile App is a great tool to start with.
2. Start Saving – If you haven't already started saving, now is the time to do it! Whether it's setting aside a portion of each paycheck into a savings account, investing in stocks or bonds (ACU's EasyVest is great for beginners), or contributing to an IRA, having some sort of savings plan can be beneficial for both short-term goals and long-term goals. And don't forget about emergency funds! Building up an emergency fund can give you peace of mind if something unexpected happens in 2023 — or beyond!
3. Review Your Credit Report – Checking your credit report regularly is a smart way to stay on top of your credit score and be aware of any potential issues that may arise due to errors or fraudulent activity on your report. Requesting a copy of your credit report once per year is free—and it's important to do so in order to keep an eye on any potential issues with your credit score.
4. Pay Down Debt – If you have any outstanding debt — credit cards, student loans, car payments — now is the time to start paying them off if possible! Even small payments here and there can help reduce the amount owed over time; plus paying off debt will also improve your credit score by reducing the amount of debt that appears on your credit report. Balance Transfers can be especially helpful when tackling high interest credit cards.
5. Take Advantage of Benefits – Many employers offer various benefits such as retirement plans, health insurance plans, etc., so make sure that you take advantage of them if available! These types of benefits can provide great savings over time and give you peace of mind knowing that these expenses are taken care of without putting too much strain on your budget each month.
Now more than ever it's important that we stay on top of our finances and make sure we're doing all we can for our short-term goals and long-term goals alike when it comes to money management. Taking the time now to make sure we are taking full advantage of all our options when it comes to banking could really pay off down the road — literally! So, consider these five financial resolutions as you prepare for 2023 and beyond; they're sure to put you ahead financially in no time at all!
Happy New Year everyone!
To setup a new Savings Account to help reach your financial resolutions, click here:
ACU Savings Accounts
Securities and advisory services offered through Cetera Advisor Networks LLC, Member FINRA/SIPC a Broker/Dealer and a Registered Investment Advisor. Cetera Advisor Networks and America's Credit Union are not affiliated companies • Not NCUSIF insured •No Credit Union Guarantee • Not a deposit • May lose value • Not insured by any federal government agency. For EasyVest, America's Credit Union has contracted with Access Softek Advisory Services LLC ("Access Softek") to make non-deposit investment products available to you. DriveWealth LLC, a SEC registered broker-dealer and member FINRA/SIPC, holds the investment accounts. Investment Advisor Representatives are registered through Access Softek.