How to Open a Checking Account in 5 Steps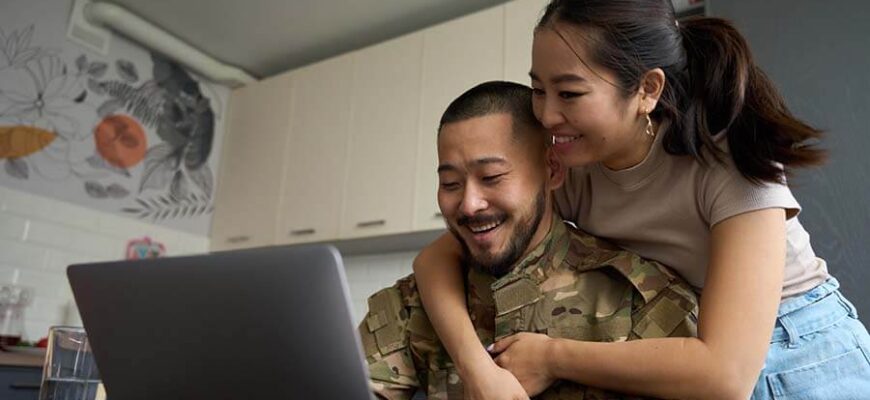 A checking account allows you to conduct essential day-to-day financial activities, such as writing checks, using a debit card, or paying bills. With so many options out there, it's vital to understand their features, how they work, and how to open a checking account.
The application process is surprisingly simple, offering you the convenience of doing it online or in person. Read on to learn what is required when opening a checking account at America's Credit Union (ACU) and the benefits you'll get from becoming a member.
Checking Account Considerations
Before you decide to open a checking account, it's important to evaluate your options and consider the following factors:
Fees—Does the account have monthly maintenance fees, or are there ways to waive them?
Interest Rates—While checking accounts are not known for high interest, some accounts still offer a small yield.
Minimum Deposits—Check if there's a minimum deposit required to open the account.
Identity Theft Coverage—Some accounts come with identity theft protection services, which can be a valuable feature.
ATM Surcharges—Are there fees for using ATMs outside of the credit union's network—and if so, can you get reimbursed?
Additional Benefits—Look for other perks like mobile check deposits, online bill pay, and customer support.
What You'll Need to Get Started
Opening an account requires the following documentation:
A government-issued photo ID, such as a driver's license, state ID, or passport, that shows your current address
Social Security Number
Date of birth
Your complete physical and mailing address
How to Open a Checking Account
Follow the below five easy steps to get started:
Step 1: Gather Your Paperwork
Start by collecting all the documents and information listed above.
Step 2: Choose the Right Financial Institution
Find a financial institution that meets your needs. America's Credit Union is a stellar option, and members can take advantage of the following benefits:
Innovative banking tools
Round-the-clock access to online and mobile banking from any corner of the globe
Exclusive rates designed to put savings back in your pocket
A community of devoted banking experts with an unwavering commitment to our members and their loved ones
A suite of resources and programs crafted explicitly for military personnel
Step 3: Fill Out the Application
Visit the ACU website or one of our conveniently located branches to complete the application form. You'll need to provide your personal information and your gathered documents.
Step 4: Make the Minimum Deposit
You use cash, a check or money order, or transfer from another account to deposit the minimum amount of money into your new checking account.
Step 5: Start Using Your New Account
Once your application is approved, you can start using your checking account for deposits, withdrawals, and managing your finances.
How to Open a Checking Account Online
Opening a checking account online is a breeze! Head over to the America's Credit Union website to begin the process. Once there, click the orange "Join Us Today" button, as shown in the image below.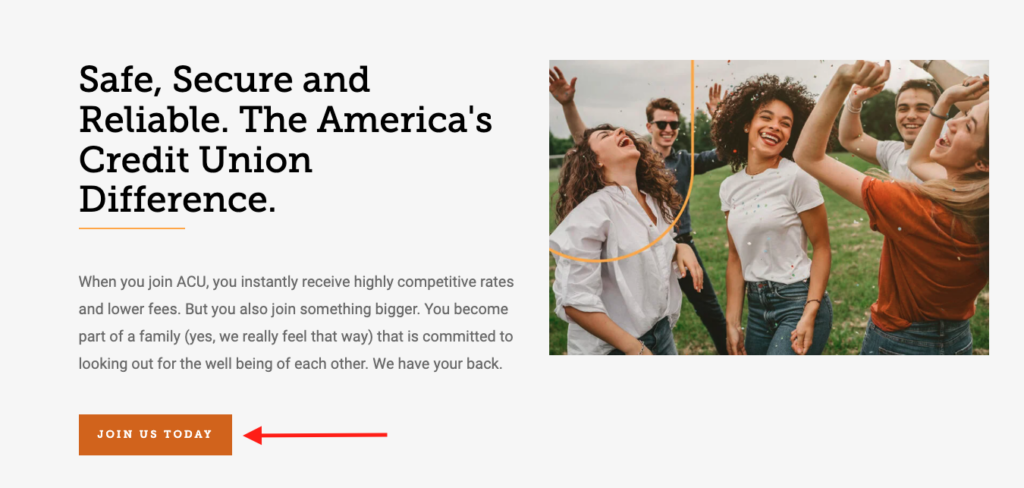 You'll be taken to our secure application portal, where you can choose which of our three attractive checking accounts you'd like to open. We require all new credit union members to open a Regular Share Savings account (with a $25 minimum deposit) in addition to opening a checking account.
Protip: You will need to upload a copy of the front and back of your driver's license or passport. If you don't have access to a scanner, you can use your smartphone to take a picture. Use a dark background and ensure all information is clear and legible.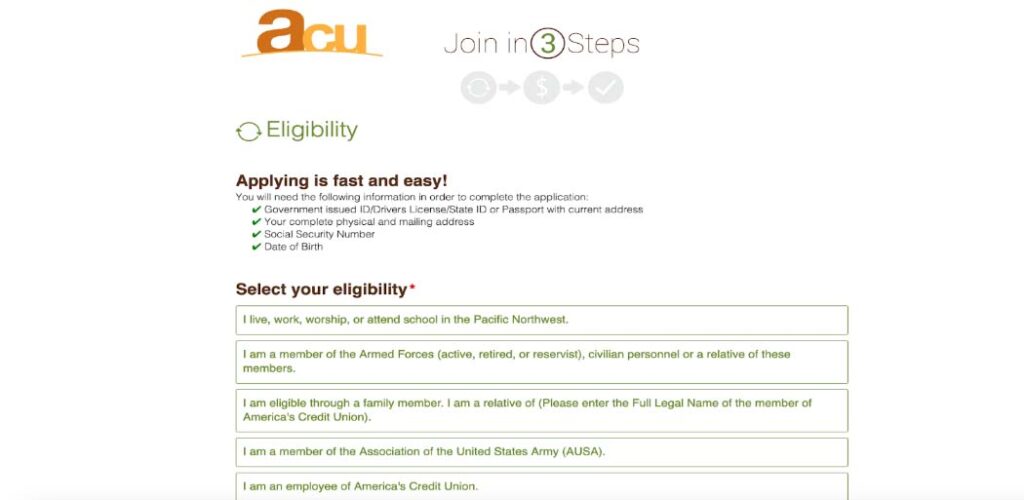 After you've entered your personal information and submitted your application, sit back and relax! One of our dedicated team members will personally handle your application, ensuring everything is just right. Once approved, we'll send you more details about your new checking and savings account.
When you join America's Credit Union, you're not just opening an account—you're becoming part of our family. Our commitment is to ensure the well-being of each member through personalized service, competitive rates, and innovative banking tools.
Why Open a Checking Account?
Having a checking account is fundamental for managing your daily finances. It provides you with a safe place to store your money while also offering you convenience and accessibility to it for day-to-day transactions.
With an America's Credit Union checking account, you can:
Easily access your funds through debit cards, checks, or ATMs
Set up direct deposits for your salary or other income
Pay bills online without the need for cash transactions
Keep track of your spending through online banking
The ACU Difference: Tailored Banking Solutions
At America's Credit Union, we understand that our members have diverse needs. This is why we offer a diverse range of checking accounts to help you achieve your financial goals.
Membership is open to:
Anyone who lives, works, worships, or attends school in the Pacific Northwest
Military members (active duty, retired, or reservist), Civilian personnel, or relatives of those members
A member of the Association of the United States Army (AUSA)
America's Credit Union employees and their family members
Our Military Banking and Loans offer a comprehensive suite of benefits, including convenient locations on Joint Base Lewis-McChord, special rates to save you money, multiple military programs and resources, and more.
Open a Checking Account Today with America's Credit Union
Opening a checking account at America's Credit Union is easy as 1-2-3. We pride ourselves on serving the Pacific Northwest community and the Armed Forces members. Join our family today, and take advantage of competitive interest rates, low fees, and exceptional customer service.
Click below to learn more about the value and benefits you can expect from our checking accounts.