ACU's Bill Pay
Person-to-person payments
Account-to-account function
Mobile and Online Banking access
Enroll with no separate set up required, and begin making payments immediately
Customizable Payment Memos, Payee Categories, and Payee Nicknames
Customizable Alerts that notify you via messaging, email or text when a scheduled payment is coming due, when payments are delivered and/or when payments clear
Step One: Select Bill Pay from the menu on the Mobile App.
Step 2: Select a payee you've already set up or type in a new payee's name and press Add.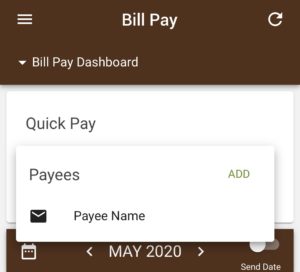 Step 3: Enter the amount of your payment and select the date to deliver the payment then select pay.