Stimulus Information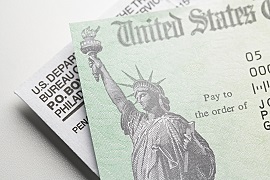 As you may know, the new COVID-19 relief bill has been signed into law and provides eligible recipients up to $600. Yesterday, funds were distributed to ACU by the Federal Government and they have been distributed to ACU members who have direct deposit setup with the IRS. More distributions are anticipated to arrive the week of January 4, 2021. 
If you have filed a 2019 or 2018 tax return and provided the IRS with your current mailing address or direct deposit information, then you won't have to do anything. If you are eligible to receive a second stimulus payment, the IRS will automatically deposit your money into the same account or mail you a check at the last address you provided.
All electronic deposits, mailed paper checks and debit payments should be completed by the IRS the week of January 25, 2021.
Depositing your check
If you expect to receive your check by mail, you can deposit it using your ACU Mobile Banking app or by visiting any ACU branch. Remember, it is a requirement to sign the back of your check for deposit. If your check is made out to you and your spouse, the IRS requires it to be signed by both of you.
Watching out for scams
The IRS has issued warnings to watch out for scams related to stimulus payments. Please refrain from giving out your personal or bank account information to anyone, even if they claim it's related to your economic impact payment. Also, remember to avoid clicking links from unknown email. You can go directly to the IRS website to get updates and watch your mailbox for official correspondence.
If you have questions regarding your ACU account, feel free to send us a secure message within your online or mobile banking account, or call us at 253-964-3113.