Smart Tips for Buying a House While in the Military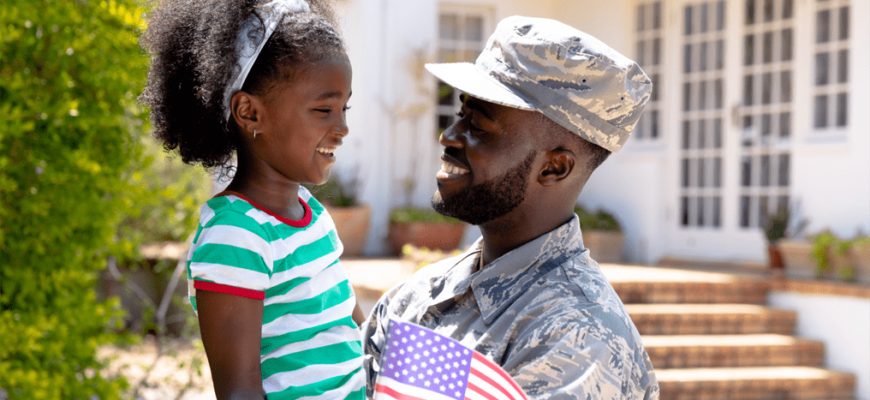 Buying a home is a big, exciting step in life. It can have extra meaning if you're buying a house while in the military and might have to spend time away from home.
Whether you want to establish a permanent home right now or start investing in your life after the military, buying a house could be the right step for you. Read on for tips to get the most out of your home-buying experience.
Make the Most of Your Military Benefits
Whether you're a veteran, an active service member, or a surviving spouse, you may qualify for certain benefits that can help you establish a home. These benefits are recognition of the sacrifice you and your family have made for our country.
VA Loans
A Department of Veterans Affairs (VA) loan is a great option if you're a member of the military who is seeking to buy a home. A VA loan includes these helpful features:
You don't need a down payment
You don't need to pay private mortgage insurance (PMI), compared to conventional loans where you often have to pay PMI if your loan to value is less than 20%
You will likely get lower interest rates than for a conventional loan
The VA does not require a certain credit score, however, your lender may include it in their underwriting guidelines. Your situation will be assessed in full
You can use your VA loan more than once!
Just be sure to find a lender – like America's Credit Union – who is licensed to offer VA loans.
Your potential home will also have to pass a VA appraisal to qualify.
Military Housing Allowance
Be sure to check if you qualify for the military's Basic Allowance for Housing (BAH) as this benefit can be used to help pay rent – or mortgage payments on your new home. The amount you can get will depend on where exactly you live, your pay grade, and other criteria.
Browse Area Neighborhoods
Now that you're up to speed on ways you can save money as a member of the military, it's time to start thinking about the house you want to buy. You could start by looking at the different neighborhoods in your town and weighing what's important to you.
Keep these points in mind:
The homes in some neighborhoods gain value (appreciate) more than others.
Neighborhoods have different property taxes, so make sure your taxes won't add a huge cost to your mortgage payment
Some areas may be better served by health care facilities, schools, shops, grocery stores, restaurants, and parks
The crime rate can vary in various parts of town, and information can be found online about each neighborhood
Life in the military can be tough so may want to choose a place where you already have friends, family, and other people in your support network
Consider Renting Potential
If you're a member of the military who could get a permanent change of station (PCS) order at any time, you might consider renting your house out while you're gone. So it might help to take a look at your future home with a stranger's eyes, too.
Owning a home and renting it out has several advantages:
If your property gains value over time, you'll start building up equity that you can use in the future to pay for things like renovations and tuition or to buy a house of higher value
You might be able to charge more rent than your mortgage payment, so you'll have some income to help with repairs and to meet other homeowner costs
You'll have a home to come back to once you complete your service
Assess the Space You'll Need
Of course, you'll need to choose a house that fits into your budget. You'll have to make several important decisions along the way, like whether you want a single-family home, a condo, or a townhome
Here are a few things to think about when choosing property types:
Do you need outdoor space for kids or pets?
Do you want to keep a garden or mow your lawn?
Do you want to live near the center of town so you can walk to amenities?
Do you want a quiet area where you can't hear or see your neighbors?
Do you need a spare room for guests or a basement for hobbies?
Evaluate School Districts
Schools are important even if you don't have children of your own. Homes in good school districts tend to have higher value and gain more value over time. Here are a few points to keep in mind:
Does the local school district include elementary, junior high, and high school or will your child need to travel a distance to one or more schools?
What ratings and reviews do the schools have?
Are there preschool programs in the area?
Can you afford private tuition if the public schools aren't very good?
Choose a Community-Focused Lender
Once you've decided where you want to put down roots, you'll need to choose a lender who understands the unique needs of buying a house while in the military.
Remember, your local credit union has experience serving people just like you. You can get competitive rates because a credit union is a not-for-profit organization that distributes revenue back to members, including our honorable service members.
Buying a House in the Military? Find Out More About Home Loans
The next step in your home-buying journey is to choose the type of loan that suits you. You may qualify for a Veteran Affairs (VA) Loan or you might prefer a conventional home loan.
It's a good idea to look into the details of all the different types of home loans so you feel comfortable and knowledgeable about various factors like interest rates, terms, and closing costs.
If you go with a lender from your community, you'll be sure to get straight answers. Plus, you'll be able to reach out for guidance at any time.