Shop Confidently Online and Get a Chance to Win $10,000!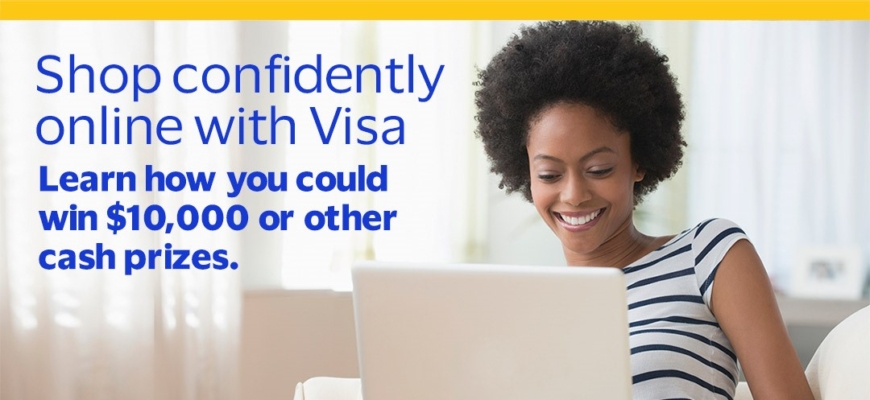 When you make an online purchase between May 1, and June 30, 2022 with an eligible ACU Visa Debit Card, you'll be entered in to Visa's sweepstakes. Visa is awarding:
1 Grand Prize of $10,000
10 Cash Prizes of $2,000
When shopping, it's a smart idea to reach for your ACU Visa Debit Card. That's because Visa's security technology is designed to safeguard your online transactions and help prevent fraud!
Visa's Zero Liability Policy – Visa guarantees you won't be held responsible for unauthorized transactions.
Continuous Fraud Monitoring – Helps detect suspicious activity on your Visa Debit Card.
Data Encryption – Tools to help protect your Visa Debit Card.
Lost or Stolen Card Replacement – Notify the Credit Union to deactivated and get a replacement quickly.
For more information on the Sweepstakes you can visit:  visa.com/shopconfidently
Official Rules:  visa.com/shopconfidently/rules


NO PURCHASE OR OBLIGATION NECESSARY TO ENTER OR WIN. NON-PURCHASE ENTRIES AND PURCHASE ENTRIES HAVE AN EQUAL CHANCE OF WINNING. Open only to legal 50 U.S. & D.C. residents who are 18 or older as of 5/1/22 who are physically located and reside in the U.S. or D.C. Void in P.R. and where prohibited. Begins at 12:00 AM PT on 5/1/22, and ends at 11:59 PM PT on 6/30/22 ("Promotion Period"). TO ENTER: 1) Automatic Entry: An eligible Visa Prepaid, eligible Visa Payroll, or eligible Visa Debit cardholder will automatically receive one (1) Sweepstakes entry for each online Visa transaction made with his/her/their participating financial institution's Visa Prepaid card, Visa Payroll card or Visa Debit card during the Promotion Period. Only eligible Visa Prepaid cards, Visa Payroll cards and Visa Debit cards can receive automatic entries. For a list of eligible Visa Prepaid cards, Visa Payroll cards and Visa Debit cards and participating financial institutions, visit www.visa.com/shopconfidently/participatingportfolios. Commercial cards and the following Visa Prepaid cards are excluded from entry into the Sweepstakes: Visa Buxx, Visa Gift Card, Visa Healthcare Cards, Visa Incentive Card, Visa Government, and Visa TravelMoney. Automatic Entries must be made by 11:59 PM PT on 6/30/22. 2) To Enter by Mail Without Purchase or Obligation: Hand-print your complete name, street address, city, state, ZIP code, daytime and evening telephone numbers (including area code), and a valid email address on plain 3″ x 5″ paper, and mail it in a #10 envelope with sufficient postage affixed, to: Visa 2022 Prepaid & Debit Online Sweepstakes, P.O. Box 7772, Melville, NY 11775-7772. Mailed entries must be postmarked by 6/30/22 and received by 7/8/22. Enter as often as you wish; but each mailed entry must be mailed in a separate postmarked-and-stamped envelope. Mechanical reproductions prohibited. PRIZES: One (1) Grand Prize: To the extent possible, $10,000 loaded onto the winner's Visa Prepaid card or Visa Debit card linked to a bank account or Visa Payroll card, depending upon method of entry. ARV of Grand Prize: $10,000. Ten (10) First Prizes: To the extent possible, $2,000 loaded onto the winner's Visa Prepaid card or Visa Debit card linked to a bank account or Visa Payroll card, depending upon method of entry. ARV of each First Prize: $2,000. Total ARV of all prizes: $30,000. In the event that a winner entered via mail and does not have a Visa Prepaid card, Visa Payroll card or Visa Debit card, prize will be awarded in the form of a check. In any other event where the prize cannot be loaded onto a winner's Visa Prepaid card, Visa Payroll card or Visa Debit card, prize will be awarded in the form of a check. ODDS: The estimated odds of winning the Grand Prize are 1 in 4,110,584,630 and the estimated odds of winning a First Prize are 1 in 411,058,463; however, the actual odds of winning a prize depend upon the total number of eligible automatic and mailed entries received. Sweepstakes subject to complete Official Rules. For complete details including various entry deadlines, see Official Rules available at www.visa.com/shopconfidently/rules. SPONSOR: Visa U.S.A. Inc., P.O. Box 8999, San Francisco, CA 94128-8999