4 Benefits of a VA Loan [You Might Not Know]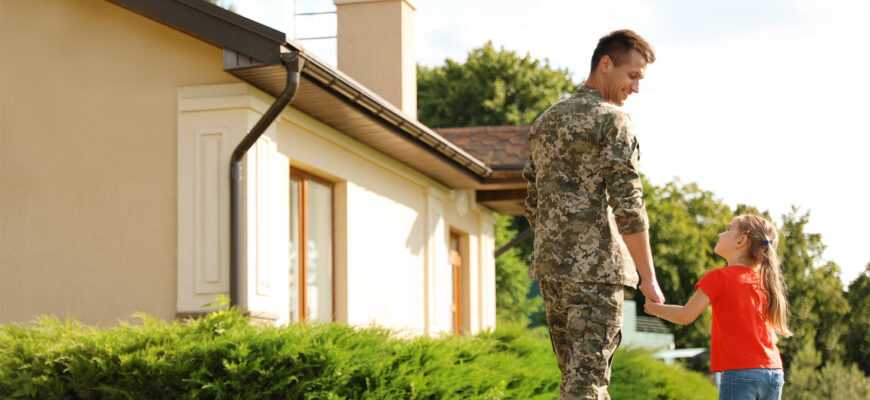 Buying a home can be challenging. The financing, the mortgage process, the house hunt! It's exhausting for anyone. But for members of the military and their families — who sometimes have only a short time before the next assignment — it can be even harder. Thankfully there are loan programs, like a VA loan, specifically designed for members of the military and their families.
A VA loan is a mortgage option partially guaranteed by the Department of Veterans Affairs and available exclusively to veterans, service members, and their surviving spouses. Keep reading to learn more about the benefits of VA loans and how this type of loan can work for you!
VA Loan Basics
First thing's first— what is a VA loan? 
VA loans are backed by the Department of Veterans Affairs and allow you and your family to buy, build, improve, or refinance a home. While you'll still need to have the necessary credit and income required for the amount you want to borrow, there are more options and benefits available to you as a veteran. 
You should consider a few things before starting the home buying process. For example:
Basic Allowance for Housing (BAH): Before you set your budget, check to see if you qualify for

BAH

. This amount depends on many factors and can be used to help pay for a mortgage payment on your new home.

Location: Where do you want to live? Do you want to be near schools or out in the country? You should answer these questions before establishing your budget.

Space: Do you have a large family? Do you need lots of space with multiple rooms? Or do you want a cozy place with "just enough" space? This will also drive your budget.
There are plenty of things to consider when getting ready to take on a mortgage, especially for members of the military! Know that at America's Credit Union (ACU), we're proud to offer our military members options to secure a home loan that fits their budget. 
Now that we have some basics down, let's get into the top benefits of a VA loan!
1. No Down Payment
The top benefit of a VA loan is that there's typically no down payment! With a VA loan, qualified veterans, service members, and their families don't have to make that initial lump-sum payment to secure their mortgage. 
It can be hard to gather a down payment, especially if your assignments have you moving regularly. By freeing you of this burden, you can secure a home and finance 100% of its purchase price or appraised value, whichever is the lowest of the two.
Keep in mind that making even a small down payment may reduce the VA funding fee, which is a one-time payment that a veteran, service member, or survivor must pay on a VA home loan. But don't worry, this is financed into the loan and does not need to be paid up front, out of pocket.
2. No Private Mortgage Insurance (PMI)
With traditional loans, if you put down less than 20%, you may have to take out private mortgage insurance. But one of the benefits of a VA loan is that it doesn't require this monthly fee! Therefore, you can secure a mortgage and finance 100% with no PMI. This lets you buy — and save — more!
3. Competitive Interest Rates
Another benefit of VA loans is that they typically have the lowest average fixed rates. Of course, mortgage rates are not set by Veterans Affairs so you'll want to check with your Loan Officer to find the best fit. At ACU, we offer competitive rates that are guaranteed for the lifetime of your loan.
4. Flexible Requirements
As with any loan, lenders will review your credit, debt, and income to decide what type of mortgage they'll offer you. However, VA lenders typically have a little more flexibility around some of these requirements. 
Credit Requirements
While the VA doesn't set a minimum credit score to qualify for a loan, VA lenders will have minimum standards for credit scores. These standards are typically in the low, to mid, 600s. Remember to review your credit report each year to make sure everything is in check.
Debt-to-Income Ratio
Debt-to-income ratio, or DTI, compares how much you owe each month to how much you earn. For conventional mortgages, lenders usually like to see a DTI under 45%. Another benefit of a VA loan is that VA lenders often accept a higher DTI, so you'll want to check with your lender to see what they accept.
If your DTI is higher than that, don't worry! A VA lender may accept a higher DTI if you have enough residual income, meaning any money left over after satisfying your monthly debt obligations. Your DTI may also be higher due to tax-free income.
Benefits of a VA Loan With ACU
At ACU, we appreciate our service members, veterans, and their families. We strive to give you access to the very best since you give the very best to your country.
Some of the benefits of a VA loan with ACU are that our loans come with no down payment and competitive interest rates. Learn more about the benefits of a VA loan with ACU today!
ACU'S VA LOAN