Lyn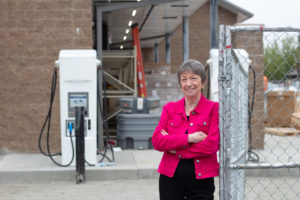 Lyn's bio
Lyn Hamilton is the Small Business Administration Program Manager at America's Credit Union. She joined the team in 2016. Lyn previously served as VP and SBA Lending Manager at Bank of the Pacific for three years and held that same position at Heritage Bank for the previous seven years. Prior to that, she was with the U.S. Small Business Administration for 20 years as the Deputy District Director. Lyn has a wealth of experience in all areas of SBA financial assistance.
Lyn is a native Washingtonian and when she's not engulfed in lending you might find her crafting, watching football, or trying hard to be the best grandmother in the state.
SBA Loans – Why YOU Should Consider Them
Small Business Association (SBA) loans are a strong alternative to traditional business loans. SBA loans can be helpful in obtaining financing even if the collateral may not meet conventional lending standards. An SBA loan can also keep cash in your business' pocket by providing lower monthly payments and flexible terms.
Getting Started
Determining if your business is eligible for an SBA loan is one of the most critical steps in the lending process. Your business must be for-profit, located in the U.S. and owned by U.S. citizens or Legal Permanent residents. There are some types of businesses not eligible for SBA assistance, so make sure to contact your lender as early as possible in the application process to determine eligibility.
It is also wise to thoroughly research your business idea. Determine out how to make your business successful, define how much capital you will need, then confidently present the plan to your lender. You must have funds available to inject in to the business. If it is a start-up, at least 20% of the total project will be needed. You must have something at stake, as the lender will not take 100% of the risk associated.
SBA loan terms are usually longer than a conventional loan, which helps spread out payments.  These loans are available in terms of seven years for working capital, fifteen years for equipment, and up to twenty-five years for real estate. The interest rates are set by the lender, but generally do not exceed the Wall Street Journal Prime, plus 2.75%
Structure & Plan
Establish your business structure and provide all appropriate documentation such as a Partnership Agreement, Articles of Incorporation, Bylaws and Licenses.  Make sure to have a business banking account opened at a local institution and have your federal/state ID numbers on hand.  These numbers will be needed on several forms.
Write a business plan for all start-up and expansion businesses. It doesn't have to be complicated or long, but it should provide a plan for success.  Be sure to include a management resume that reflects your experience in the industry.  If you are planning to purchase property, or build on vacant land, be sure to include all pertinent exhibits and details.
Have all of the financial exhibits ready for review, including tax returns (both personal and business) and itemized projections for at least two years.  Tax and personal information will need to be submitted by all owners with 20% or higher stake in the company.
SBA Success in DuPont
Local resident and Army Veteran, Ted Danek has recently been successful with an SBA project.
When asked about the SBA Loan process, Mr. Danek said, "ACU's ability to help me with the SBA process, compared to the banks I talked to, made this an easy choice. Applying for an SBA loan is daunting to say the least. While it has to be, in order to protect taxpayer funds, the myriad of forms and requirements could scare away the bravest of souls. You both [Lyn Hamilton & Patrick Horan – ACU Business Services] were a great relief and provided immeasurable help in the process… I can't thank Lyn, and ACU enough for all the help and for funding the DuPont Ace Hardware store. Without your help and that of ACU, Ace would not be opening in DuPont!"
Mr. Danek will be opening Ace Hardware's newest location, equipped with an outside nursery and two electric vehicle charging stations, in DuPont with the help of America's Credit Union.