ACU Green Rewards Card
Cash back, no fees, a great rate, and exceptional local service. This is what it looks like when credit cards get a fresh start.

Apply Now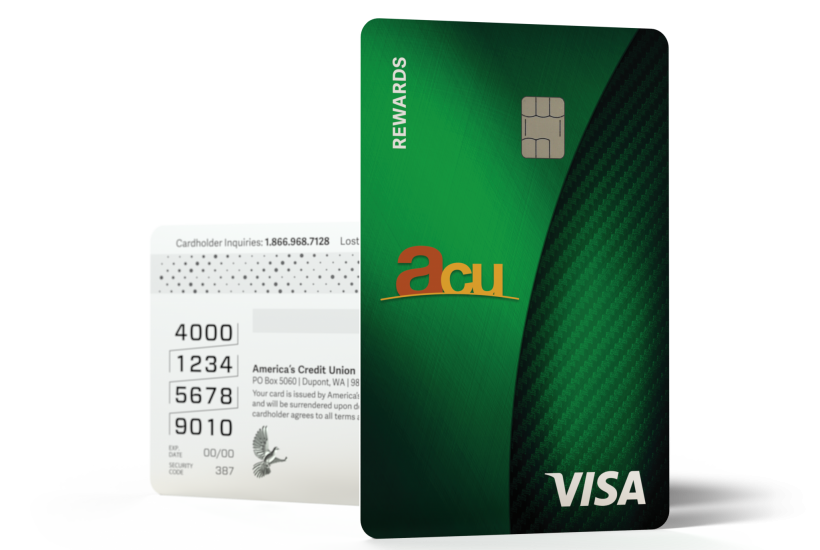 With the ACU Green Rewards Card, you'll get an exceptional rate, cash back for every purchase, no fees, and outstanding local service. Credit cards don't get any better than this. 

Low Interest Rate
Save money with our competitive rates.

Cash Back Rewards
1.50% cash back on everything you buy.

No Annual Fees-Ever
Never pay a fee to carry your Green Rewards Card.  

Online/Mobile Banking & Card App
Enjoy 24-hour access to your account.
ACU Green Rewards Rates
Our ACU Green Rewards Card comes with exceptionally low interest rates. Check them out, and then apply for your own Green Rewards Card today.
View ACU Card terms and conditions here.
Additional ACU Green Rewards Card Benefits

Monitor your purchases with Online and Mobile Banking

ACU Card App to set up alerts and controls

Digital Wallet including Visa Checkout

Fair credit scores welcome

Personalized images for just $15

Auto rental collision damage waiver
Balance Transfers With the ACU Green Rewards Card
Transfer high-interest balances from other financial institutions and save! There's no transfer fee with our ACU Green Rewards Card. 
Consolidate your different card balances into one low payment on your ACU account at a great rate.
ACU Green Rewards Card FAQs
A: Yes, but you should join us. When you join ACU, you're joining a family. You get great benefits and outstanding financial products. Plus, it's easy to join. You can even do it online.

A: No. Not at all. Our ACU Green Rewards Card is a credit card for people with fair credit.

A: You earn cash back rewards with every purchase* made with your ACU Green Rewards Card. Your rewards will be credited directly to your Primary Savings account each month

A: Everything you buy with your ACU Green Rewards Card  is eligible for rewards. Groceries, gas, household expenses, services, and even travel are approved for cash back credit rewards. Rewards are not eligible for Balance Transfers, Cash Advances and Credit Vouchers

A: Yes, there is a maximum of $100.00 cash back rewards per month

A: No, they do not expire

A: The ACU Green Rewards Card comes with a 15.99% fixed rate on new purchases.
★★★★★
"As embarrassing as it is to admit no financial institution would touch me due to how bad my credit and financial situation was until ACU. Literally on every level, they go above and beyond not just once but every time. ACU sets the standard for customer service in my opinion. I am grateful for not only this branch but ACU family in itself.
Now I find myself hitting less and less speed bumps, planning for my future, building a business. I used to never think about retirement but now it has become yet another goal in my life. I know this sounds cliche but I couldn't have asked for a better bank, I appreciate you all."
-Lou M.
Ready to Apply for an ACU Green Rewards Card?
If you're ready for a fresh start to credit cards, then it's time to apply. The ACU Green Rewards Card redefines what credit cards should be.
More ACU Credit Card Options
We have a credit card for everyone. Whether it's our Green Rewards Card, Business Card, Platinum, or Platinum Rewards card, we've got you covered. 
*APR = Annual Percentage Rate. This transaction is subject to credit approval. Only accounts that comply with the terms and conditions of the Visa Account Agreement will be eligible to earn Cash Rewards.  If your account is delinquent, you will not accrue Cash Rewards and we will have the option to withdraw Cash Rewards previously earned. Cash Rewards begin accruing again once the account is no longer delinquent. Cardholders will earn a 1.50% cash reward for every one dollar ($1.00) in net purchases (purchases minus returns/credits) made on your Credit Card Account, rounded to the nearest one cent ($0.01).  You do not earn Cash Rewards on cash advances of any kind, balance transfers, any interest or fees, including but not limited to returned payment fees, and late fees. Your Cash Reward balance will be calculated monthly.  You will earn Cash Rewards each month posted to your ACU Savings account. Your account must be open and in good standing (not cancelled or terminated by either party, not delinquent or otherwise not available to use for charges) at the time of redemption. The maximum Cash Rewards that you can earn monthly is $100. ACU reserves the right to amend, cancel, or temporarily suspend the Cash Rewards Program, in whole or part, or change any of the rules and conditions, at any time for no reason in our sole discretion, which may result in forfeiture of Cash Rewards not yet redeemed. See full Visa Disclosure for more information.
*$5.00 per replacement card may be charged to your account.